Chinook What I Made
Notes from brew day #3
After the abject failure of my previous brew determination was high. Mistakes would not be made, at least not with regards to the most important stage of the process, sanitisation!
This was my first brew day with assistance, in the form of my dad, and having someone to "teach" really helped my focus throughout the day, not only were there considerably less mistakes there were also notable improvements throughout the steps compared to previous attempts.
TL:DR I DIDN'T DESTROY THIS BEER!! WOOHOOO!!
In my summary of brew day ichi-ban I described in detail (my understanding) of the steps involved so I'll not go into as much detail this time but will attempt to follow the me structure.
The Beer Kit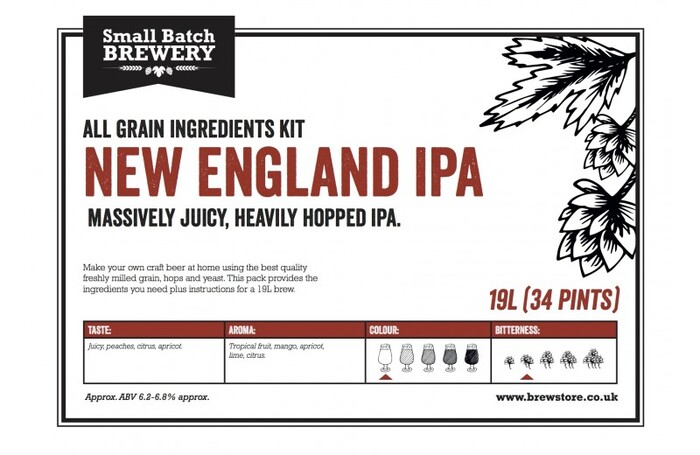 The New England IPA 19L All Grain Beer Kit was the same beer kit that I had used in the previous disastrous brew however due to issues with online payment I had to vistt the brew store to pick up, and the hops that were included in this kit were different from the previous kit. I'm a novice so I didn't question this at the time but at various times during the brew I considered that perhaps I had been given the wrong hops.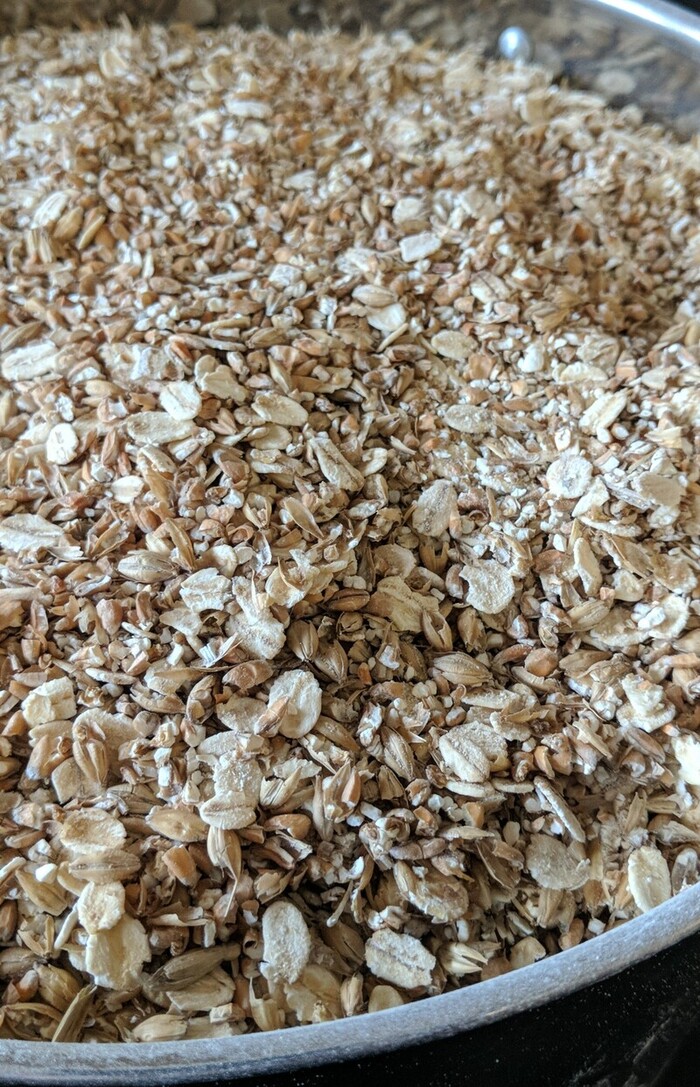 In the kit this time was a bag of mixed grains, 200 grams of Chinook hops as well as a sachet of White Labs WLP066 London Fog Ale Yeast (liquid).
As previously ingredients were accompanied by some general brewing tips and the …
Brew Day Sheet
This very handy two page guide split the brew into its composite stages and provided target temperatures, gravity readings and volumes as well as space for recording timings and measurements throughout the day. It was very useful and despite my occasional flapping it kept me pretty much on track. The composite parts of the sheet will be incorporated below in the stage sections.
This was actually missing from the kit on this occasion but I had the previous brew's sheet and I noted all of the important steps and numbers in a notebook.
Stage 0 - Prep!
Not only did I clean and sanitise EVERYTHING immediately after the last brew, on the night before this one, I went through the whole process again! This time however, on the advice of a retired chemist on the fediverse I noted every measurement and each step down.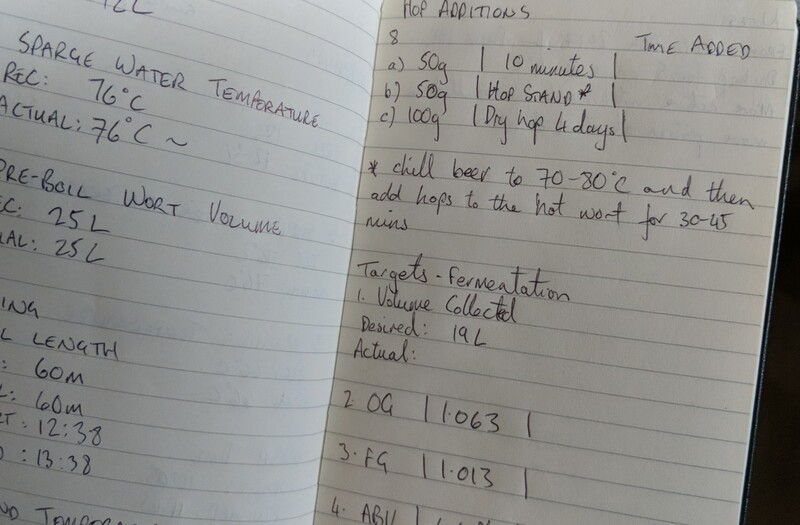 In addition to directly address the issue that wrecked my last beer, I bought accurate measuring devices in the form of a glass pipette set which enabled me to measure exactly 2ml of the 'no rinse' sanitiser in with 1 litre of water for the spray bottle.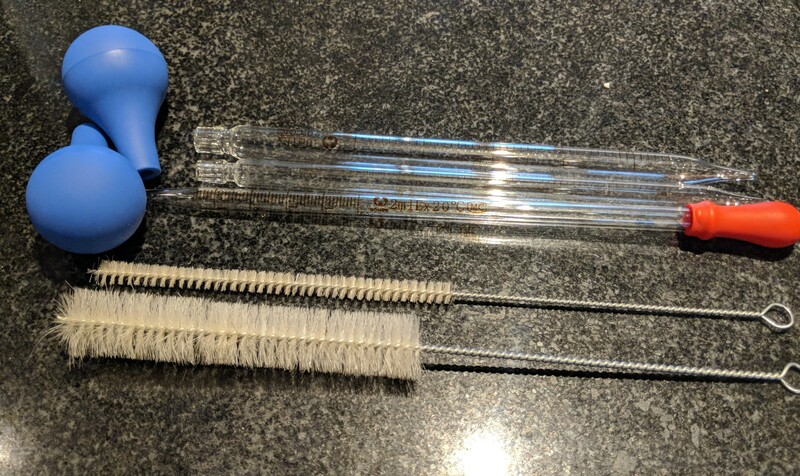 I also endeavoured to spray less enthusiastically, or rather less intensely.. enthusiasm levels were high regardless of the somewhat tedious task at hand. The extra focus on preparation definitely provided a solid foundation for the next day's activities!
Stage 1 - Striking & Mashing
Another lesson learned from the previous brew was to heat the strike water as soon as I rolled out of bed, this meant that by the time the brew started the water was already at the correct temperature.. enabling me to spend just short of an extra hour with my daughter before I started in earnest.
Previously, I had noted that the thermometer probe wasn't secure and had slipped out during the last brew.. this was firmly taped to the unit this time and didn't budge through the whole day.
With the mash, we actually actively mashed and stirred the grain in for the entire duration of the water dropping from 76°C to 66°C.. this was tough work, I'm not entirely sure how long it took but my dad and I took turns, and in actively working the mash for the whole time we not only reduced the cool down time considerably but also released more sugars into the wort than previously.
This stage was absolutely nailed, a marked improvement on previous attempts, and the benefits of having a brew buddy became very apparent, very quickly.
Stage 2 - Lautering & Sparging
According to the brew sheet for this NEIPA recipe, approximately 8-10 litres of 76°C water should be rinsed or sparged through the spent grains in order to hit a pre-boil wort volume of 25 litres.. I needed 12L which was the same as last time.
It could be that there are improvements that could be made to this part of the process so I'll maybe agitate the grain a bit more during this process to release more sugars and move the sparge water through, I suspect that of the 12L poured in a fair amount was still sitting within the grain cake.
Stage 3 - Boiling
Somewhat excitingly (likely to a very limited audience only) there was some proper protein build up as the wort hit the boiling point. I had experienced this during a trip to the Stewart Brewing Craft Beer Kitchen with friends a few years previous and was a little confused as to why it hadn't happened on my earlier brews.. but it seems that our increased activity during the mash stage was the reason. What nice, natural, confirmatory feedback on our enhanced efforts!
With the confidence that the thermometer probe was securely attached and accurately measuring temperature, after breaking up the protein with a paddle, the rest of the boil went very smoothly.
We filled the time reading brewing books and chatting about my future brewing plans in Japan. As my dad was driving later in the day we weren't drinking.. my next brew buddy is a non-driver!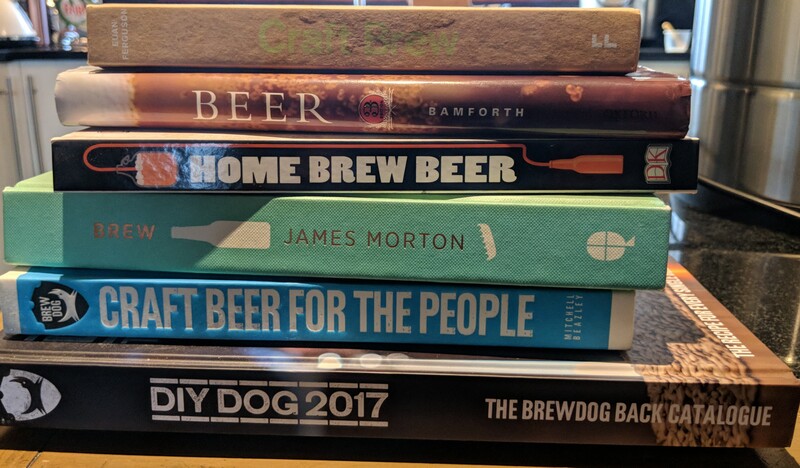 Stage 4 - Hop Additions
There was an initial 50g of the Chinook hops as a 10 minute (from end of boil) addition, then the hop stand which involves lowering the temperature post-boil to 70-80°C, adding in another 50g of the hops and holding the hot wort at that temperature for 30-45 minutes, we went for 40 minutes at 76°C since 76 appears to be a special number.
So far the hop stand seems to be a specific step for this style of beer and must contribute to the hazy or rather juicy look of the final beer.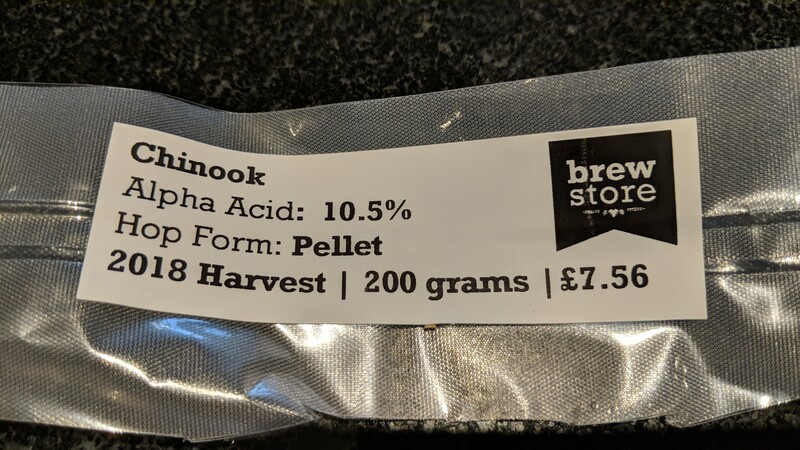 Whilst we were reading in the previous stage, I had spotted a note attached to a recipe from BrewDog's DIY DOG 2017 which stated that they get the be results when dry -hopping for 5 days (rather than 4 recommended elsewhere) at 14°C. It wasn't overly clear if they meant specifically with the recipe the note was attached to or as a general rule of thumb but with my newly acquired chiller, I gave it a go.
Hop schedule for this brew was:
50g of hops at 10 minutes (50 minutes into boil)
50g of hops post-boil in a hop stand
100g of dry hops post-fermentation for 5 days at 14°C
Stage 5 - Cooling
Post-brew it occurred to me that I missed a step which could logically fit in this age, I briefly mentioned it in my first brew post and will remember to do it next time.
The whirlpooling stage is primarily meant to separate trub (errant hops or grains which managed to escape the grain basket post-sparge) from the wort by dragging them down to the bottom of the .. boiling vessel.. but also the act of a 5 minute (yup!) whirlpool will also cool the wort a little, albeit slower than the cooling coil that comes with the Grainfather.
We cooled the wort to 18°C and transferred into the fermenter at a higher elevation than previously in order to increase the oxygen in the wort for the hungry yeast.
Stage 6 - Fermenting
The target original gravity (OG) for this beer is 1.063 which on my previous disastrous brew I hit on the nose, this time though I missed it by a little, landing on 1.059.. There was about an extra litre of of pre-boil wort and it seems that this was extra sparge water resulting in a very slightly weaker final wort.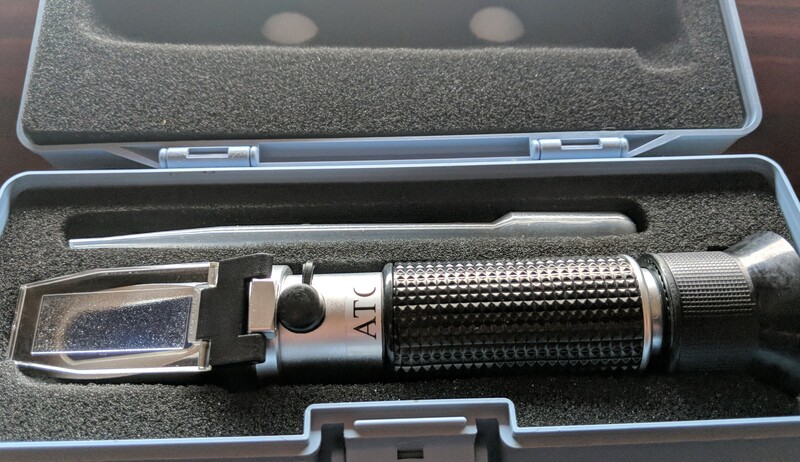 The fermentation of this beer was the most active (noisiest) so far.. even into day 8 there was still the occasional bubble through the airlock. However, as previously experienced the active yeast increased the temperature of the wort in the fermenter, and it occurred to me finally that I had forgotten to buy a cooling system, so I ordered an inexpensive one and took immediate action whilst awaiting its delivery.
On noticing the temperature creeping up to almost 23°C, my wife and I carefully moved the fermenter on to a worktop in the utility room, opened the window to a Scottish winter and watched the temperature drop. The fermenter has a heating element so whenever it drops below the target temperature it slowly recovers.. so whilst there were a few periods where the temperature was slightly below 18°C, they were brief and the heat never exceeded 20°C for the remainder of the fermentation window.
During the fermentation, I noted that the yeast dump deposits were a bit smaller than previously but this made sense because the yeast was .. expiring.. at a slower rate. Where the fermenter previously went dormant after 4 days it stretched out twice as long this time before fermentation seemed to be done.
Again though, my final gravity (FG) reading was higher than the target and this time I'm not sure why. It was closer to the FG this time (1.026) than last time (1.033) so some progress is being made. Perhaps I need to look into the pH levels of the water or perhaps it will improve upon the introduction of a 5 minute whirlpool.. This is a challenge I feel will take a bit of time to understand.
As a result of missing both OG and FG targets my final ABV (according to the Brewer's Friend Calculator ) is 4.33% had I hit my OG this would have been 4.86%.
For reference the following were my volume and gravity targets and final gravity (FG) results:
Desired Volume: 19L
Actual Volume: 19L
Desired OG: 1.063
Actual OG: 1.059
Desired FG: 1.013
Actual FG: 1.026
Desired ABV: 6.6%
Actual ABV: 4.3%
Stage 7: Kegging & Carbonising
I force-carbonated the beer for 2 days at 30PSI, brought it down to 12PSI for another 24 hours, hooked it up to the tap and lowered the pressure to 10PSI. However, as I had noticed on my first brew this resulted in a slightly under-carbonated beer so I cranked up the PSI to 30 for another 24 hours.
Stage 8: Drinking
Vindication you taste awesome! OK, dialling it down a bit.. this is a tasty beer, I would be happy if I ordered this in a pub and would enjoy every last drop. I wouldn't necessarily rush back to order it again though but that's an issue of personal taste..
I like my NEIPAs to be almost fruit juice like, certain hops give off more fruity qualities that I think are better suited to a NEIPA than others. Chinook has some of those qualities it seems but also some resin-y qualities, this is fine, Fierce Beer make a very nice juicy beer which is quite resin-y (Late Shift ) but it just isn't my personal preference.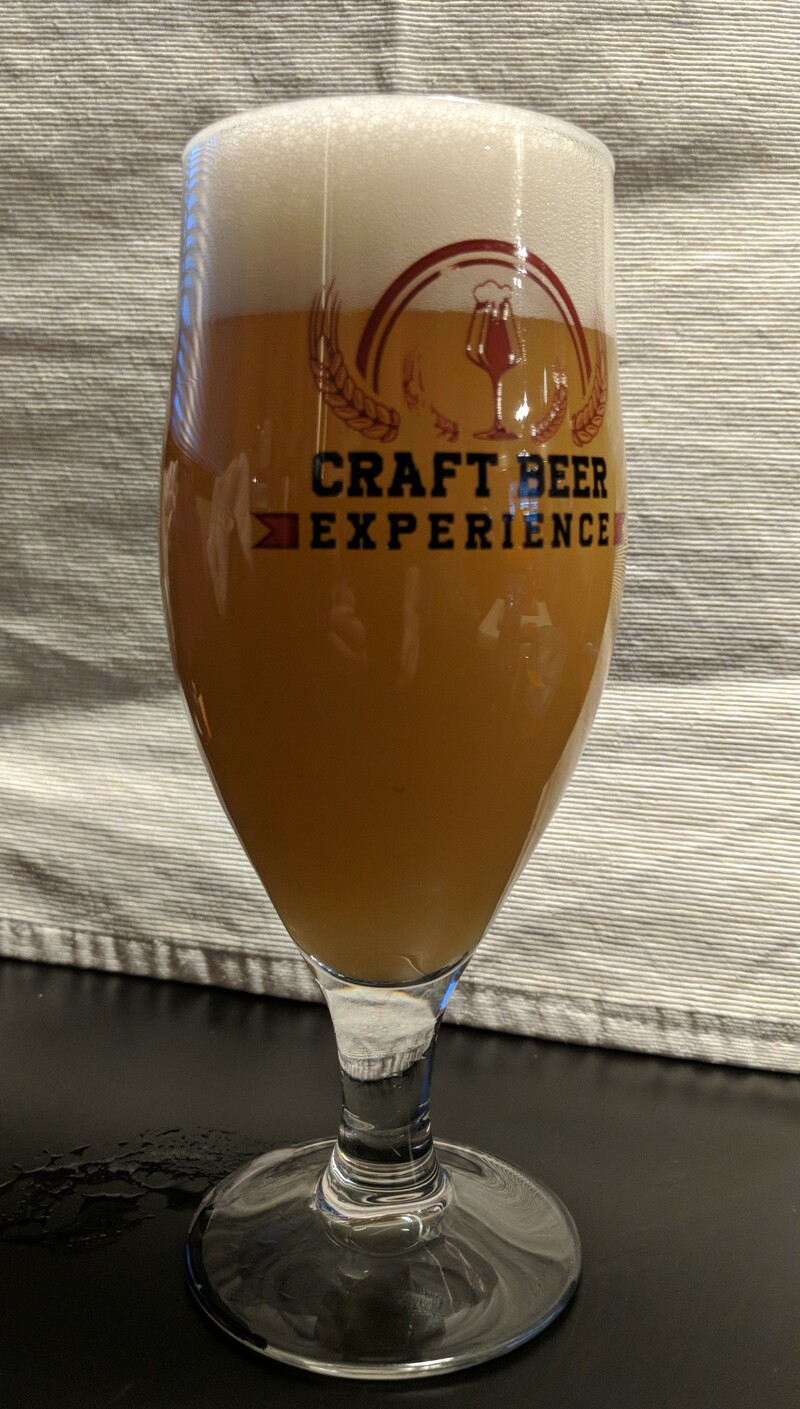 As an exercise in brewing this was a fantastic experience and my confidence and enthusiasm has been restored.
Will I drink this beer? Of course, with pride and I'll make it again, but next time I'll use El Dorado hops and see if they taste like I think they would taste without the accidental inclusion of sanitising chemicals.
For the next brew, I have a friend joining me and whilst we enjoy this NEIPA, we'll be having a crack at an Imperial Stout.. arguably my favourite type of beer!
---
Interactions
If you do not have a webmentions enabled website then please use the comment parade form below.
Comment Parade

Please copy the following and paste into the URL field below: https://jon.kelbie.scot/article/chinook-what-i-made/